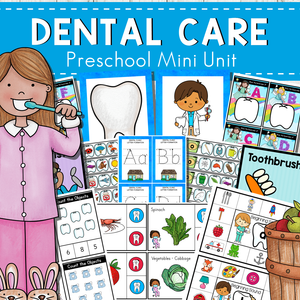 Pinay Homeschooler Shop
Dental Care Tooth Fairy Preschool Math and Literacy Center
Regular price
$8.00
$0.00
This Montessori-inspired DENTAL CARE / TOOTH, FAIRY THEMED CENTER pack is perfect for learning about dental care and hygiene while learning how to write, read and count! This pack contains more than 15 fun and engaging activities to enrich the child's vocabulary, fine motor skills and math skills.
 ⭐CHECK THE PREVIEW TO SEE SOME OF THE ACTIVITIES IN THE PACK
⭐This PACK is in ZIP FILE FORMAT. Be sure you have the tools for this file before purchasing.
⭐What's included in the?⭐
18 dental care themed activities
Summary of the activities and how to's
 ⭐Dental Themed Activities/Skills⭐
Vocabulary Words (3 Part Cards) in cursive and print ✳️✳️✳️
Chart and Posters
Word cards
Letter Formation (tracing letters)
Uppercase and lowercase match
Counting Activity
Counting Clipcards
Dough Mats
Tracing Line Strips
Colors
Beginning Sounds
Middle Sound Clipcard
Good and Bad for Teeth Sorting
How to Brush Teeth Sequencing
Measuring Activity
Cleaning Cavities
Good or Bad for Teeth Foods Clipcards
Floss Shapes Formation Mats
 ⭐⭐Materials needed for the activities:
Dry erase pens/markers
Playdough
Counters
Math manipulatives
Math snap cubes or Unifix
Magnetic letters or Movable Letters
Wooden pegs or clips
Mini baskets (optional)
---
More from this collection