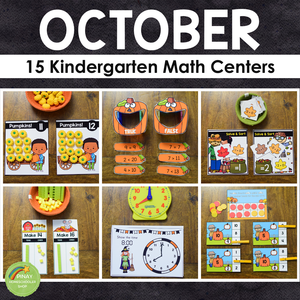 Pinay Homeschooler Shop
Kindergarten Math Centers - OCTOBER
Regular price
$8.00
$0.00
This OCTOBER AUTUMN/FALL - HALLOWEEN KINDER MATH CENTERS learning pack compilation of 15 hands-on math activities for kindergartens. The scope for this packet are:
Numbers from 1-10
Numbers from 11-20
Numbers from 1-100
Place Value (11-20)
Addition 1-10
Subtraction 1-10
Comparing Numbers (less than, greater than or equal)
Reading Data/Graphing
Reading the Time/Learning about Clocks
 The themes included in this pack are: anything autumn/fall, pumpkins, autumn leaves and Halloween
 WHAT YOU WILL GET:
1-10 Build the Number
1-10 Counting Words Clipcards
11-20 Number Representation
11-20 Count and Cover
1-100 Flip and Cover
1-100 Missing Numbers
1-10 Addition Ten Frames
Addition Equation Sorting Activity (up to 10)
5 and 10 Subtraction Number Bonds
Subtraction Equation Sorting Activity
11-20 Place Value Build the Number
11-20 Place Value Match
Comparing Numbers Clipcards (less than, equal, greater than)
Measuring Activity
Reading Time (hour and halftime)
Highly recommended to use math manipulatives of any kind or those you can purchase in the market. This material is designed in A4 paper size, so set your printer to "FIT TO PRINTER SIZE" or "SHRINK OVERSIZED PAGES" if you are using a different paper source.
 IMPORTANT!!
Please check the PREVIEW of this material before purchasing.
 We always use our printables at home in our homeschool journey. To see how it works, you are more than welcome to follow us!
Follow my website: Pinay Homeschooler
Follow my Instagram
Follow my Pinterest
---
More from this collection