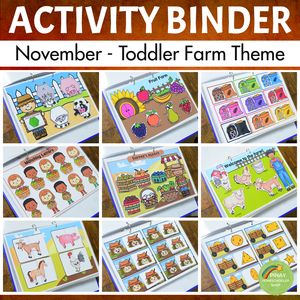 Pinay Homeschooler Shop
Farm Harvest Activity Binder with Planner - Toddler
Regular price
$6.00
$0.00
This is a FARM/HARVEST THEMED ACTIVITY BINDER made for TODDLERS. It contained hands-on learning activities in puzzle pieces and was designed to be used for ring binders.
⭐ SAVE MORE BY PURCHASING THE GROWING BUNDLE.
⭐ To assemble (for best use) laminate the pages, bind the activity pages and use Velcro dots. This pack comes with a PLANNER!
⭐ AREAS COVERED
Vocabulary Words
Color Recognition
Shapes Recognition
Visual Discrimination
Comparing Sizes
Counting Activities
Learning Letters (uppercase - lowercase)
Beginning Letter Sound (for older toddlers)
⭐ACTIVITIES IN THIS PACK:
Matching farm animals objects to shadows
Farm animals images Puzzles
Assembling a Fruit Farm
Matching Wheat to Farm Colors
Matching Eggs to Hen House
Sorting Colored Hay Bales
Color Recognition: red, blue, yellow, orange, purple, green, brown, pink and black
Matching scarecrow faces
Make your own scarecrow
Matching hay bale shapes (guess the hidden shapes)
Sorting pumpkin pie shapes
Identifying small and big sizes
Sorting small, medium and large sizes
Number Recognition (farmer's market) - placing the right number of objects in the ten frame market stand
Counting mice and matching with the right number count
Matching uppercase, lowercase letters and beginning sounds
---
More from this collection