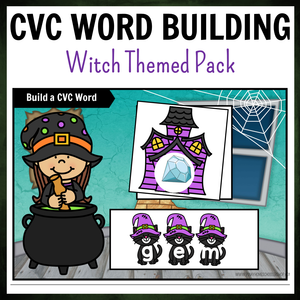 Pinay Homeschooler Shop
Witch Halloween Themed CVC Word Building Pack
Regular price
$5.00
$0.00
This
HANDS-ON CVC WORD BUILDING Activity Pack i
s one of the favourite activities from our
MEGA UNITS
. It is a hands-on activity for learning, reading and forming CVC words and promotes imaginary play.
There are 60 CVC words included in this pack. The words are:
'a' - pan, ham, cab, cat, van, fan, bag, hat, jam, ram, map, tag
'e' - leg, hen, red, ten, peg, yen, bed, net, keg, pen, jet, gem
'i' - six, in, lid, pig, zip, fin, rib, pin, rip, lip, mix, kit
'o' - pot, cob, dog, log, mop, fox, box, cop, rod, pop, rot, pod
'u' - tub, gum, bug, cut, mud, sun, cup, mug, bun, bus, nut, rug
✔️60 CVC WORD CARDS based on the theme
✔️ 60 PICTURE CARDS based on the theme
✔️lowercase letter cards based on the theme‼️ (a-z)
✔️ CVC Word Mats with Same Middle Sound
✔️CVC Word Mats with Mix Middle Sound
✔️ CVC Word List based on the theme
✔️ 2 COLORED ACTIVITY MATS
✔️ 5 Activities for extension work
5 Activities that are included:
⭐️ Recording Sheets. To account the words that you have worked on
⭐️ Read.Build.Write. To practice reading the picture cards or word cards, build the words using letter cards or magnetic letters and practice writing the words.
⭐️ Spin and Write. To be able to identify CVC words with specific middle sounds.
⭐️Roll and Color. To practice identifying and reading the color coded CVC words.
⭐️ Copywork/Dictation/Spelling. Consist of wordlist for copywork, dictation or spelling activity
Please check the PREVIEW of this material before purchasing.
We always use our printables at home in our homeschool journey. To see how it works, you are more than welcome to follow us!
---
More from this collection