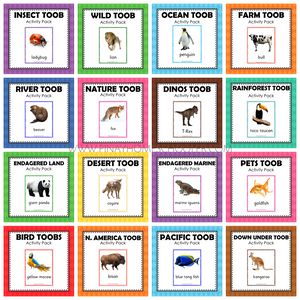 Pinay Homeschooler Shop
Animal Study Safari Toobs Activity Learning BUNDLE
Regular price
$125.00
Sale price
$224.00
This BUNDLE contains massive extension activities (activity packs) and 16 Safari Toob educational sets. Each set (activity pack) contains 20 learning activities (so you get a total of 320 activities in total!) designed for Montessori and Montessori-inspired education, preschool, prek, kindergarten, and grade schoolers. Each set uses REAL IMAGES of animals mostly isolated in white backgrounds.
 This is a GROWING BUNDLE.PLUS! 
See the THUMBNAILS for the Safari Toobs that will be included in this BUNDLE and check the PREVIEW FOR OUR UPCOMING INSECT TOOB ACTIVITY PACK.
Price will start to increase once I start adding files. See the list of activity packs below and the approximate publish date:
Endangered Land Toob Activity Pack

(COMING SOON!) 

Desert Toob Activity Pack

(COMING SOON!)

Endangered Marine Toob Activity Pack

(COMING SOON!)
---
More from this collection