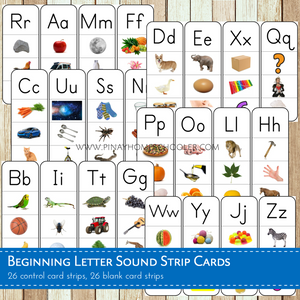 Pinay Homeschooler Shop
Beginning Letter Sound Phonics Cards
Regular price
$5.00
$0.00
This file is in PDF format.
This learning material is used for teaching beginning letter sounds to preschoolers and early readers. HIGH QUALITY REAL IMAGES are provided for a realistic experience. There are two sets of card strips included:
- letters (big and small) with pictures
- blank box with pictures
The first set, is the control strips. We use these often to practise the beginning letter sound with the images provided in the cards.
The second set, is the one with blank box of letters. We use these cards to match tangible letters (magnetic letters, movable alphabet and the likes) to the pictures in the cards. You can also write the letters using dry erase pens.
---
More from this collection