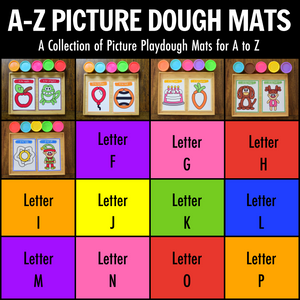 Pinay Homeschooler Shop
Playdough Picture Mats from A to Z - COMPLETE
Regular price
$24.00
$0.00
Playdough mats are so much fun!! Use these for hands-on learning and for your fine motor skills activities. Roll, cut and form the pictures on the mats using playdough. Use these in any of your activity centers and thematic activities.
 This is a GROWING BUNDLE. PRICE WILL INCREASE AS MORE SETS ARE ADDED.
 This pack now contains the following:
Sets A to Sets O
 Each set will contain at least 6 pictures representing the beginning sound of each letter (short letter sound).
PLEASE SEE THE THUMBNAIL FOR THE PRINTED VERSION OF THE MATERIAL.
 IMPORTANT: This pack is included in the ALPHABET MEGA BUNDLE and PLAYDOUGH MATS LIFETIME ACCESS. Please don't purchase if you own these products. Each letter set is also part of the letter of the week curriculum packet.
---
More from this collection